Parametric U-Hook
2016
Parametric 3D file (SCAD file)
I've been looking a while for a parametric hook modeling, but I didn't found any available model that ideally combines strength and customizing possibilities. So I tried to create the model I wanted. This is an attempt for a universal and very strong parametric hook, easily 3D printable as a "finished product".
The result is a customizable 3D file available under Attribution – Non-Commercial – Share Alike (CC BY-NC-SA 4.0) license. I made it with OpenScad software (CSG modeling).
Note : By downloading these files, you agree to abide by the license :
Attribution – Non-Commercial – Share Alike (CC BY-NC-SA 4.0)
DOWNLOAD CUSTOMIZABLE U-HOOK PACKAGE
(The package is a zip file, including the main SCAD file customizable_U_hook.scad, 4 STL files as samples, and a PDF documentation – The whole zip is about 1,3 Mo)
I've also published Customizable U-Hook on Thingiverse, Youmagine and Cults.
"Thingiverse" website offers the "Customizer", an online interface to customize parametric files (you will need a Thingiverse account to use it) :
CUSTOMIZE U-HOOK WITH THINGIVERSE CUSTOMIZER
WHAT TO DO WITH THIS FILE ?
A custom hook, made to measure, which can be very strong … The internal shape of the main hook, half-cylindrical, may be advantageous (to guide tubes, hang a bike frame…). Finally it is also a "U" section with an integrated attach system.
"U-Hook" had been optimized for 3D printing : it does not require any support, whatever the selected options and parameters, and it combines strength and lightness. In its default configuration, printed in PLA (type of plastic, commonly used with this technology), a U-hook weighting 30 g held a weight of more than 45 kg :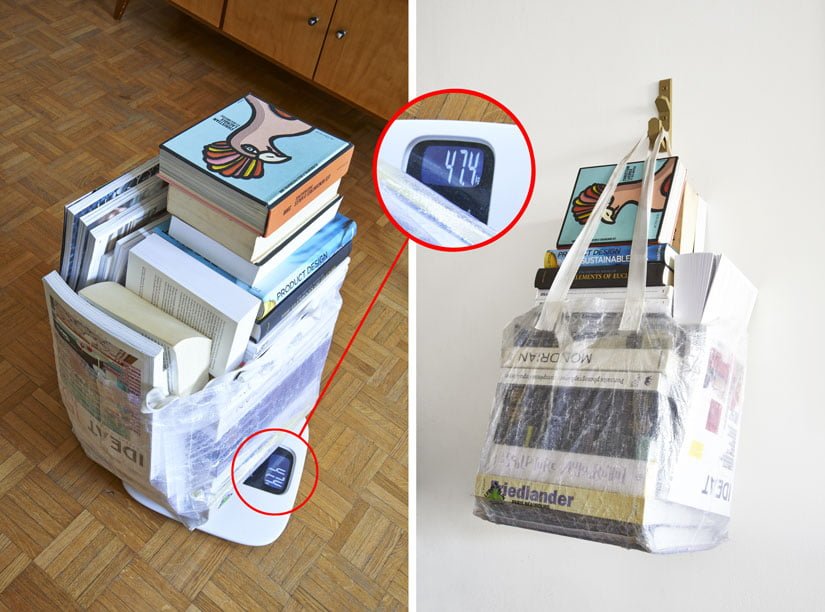 Stress test on "U-Hook"
The hook had been printed in PLA, with 2 perimeters, 0.2 mm layer height, and 20% infill. The weight is 47,4 Kg.
I wrote a very simple tutorial that explains how to set this kind of file using OpenScad software :
See the tutorial How to use a parametric file.
Here are the settings available for my parametric "U-Hook":
1 / CHOOSING SHAPE
Choose the general shape via the parameters "bracket", "round bracket" and "second_hook". For each one, you can choose value between "true" (equivalent to "YES") or "false" (equivalent to "NO").
classic hook with screw-holes (bracket=false)
hook to hang (bracket=true)
if hanging, rectangular bracket (bracket_round=false)
if hanging, circular bracket (bracket_round=true)
second hook (second_hook=true)
no second hook (second_hook=false)
2 / CHOOSING SIZE
Then choose the numerical values that suit you to set the size of hook's different parts.
hook intern diameter (hook_size)
hook thickness (thickness)
second hook lenght (second_hook_lenght)
second hook angle (second_hook_angle)
height between main hook and first screw-hole (spacer_1)
height between first screw-hole and second hook (spacer_2)
height between second hook and second screw-hole (spacer_3)
height between second screw-hole and hook's top (spacer_4)
If you chose the "hook to hang" shape, you can set :
main bracket size (bracket_size)
bracket thickness (bracket_stiffness)
desired length for stop at hook's back (stop_lenght)
NOTE : If you chose the "circular bracket" option, you can't set the bracket thickness, because it is defined by the body of the hook itself.
If you chose "classic hook with screw-holes" shape, you can set :
screw diameter (screw_diam)
screw-head diameter (screw_head)
a tolerance, this value is then added to all diameters (tolerance)
screw-head's height (screw_head_h)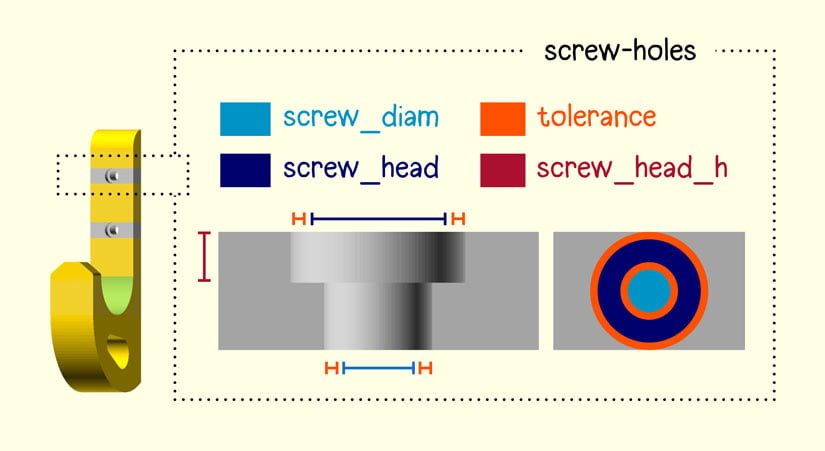 After each preview (F5 Key), the console (text box below the viewing area) returns a lot of information on the overall size and chosen values for each element.
If some choices are illogical, or may alter hook's effectiveness, you will also find there some warnings and advises about which values to adjust.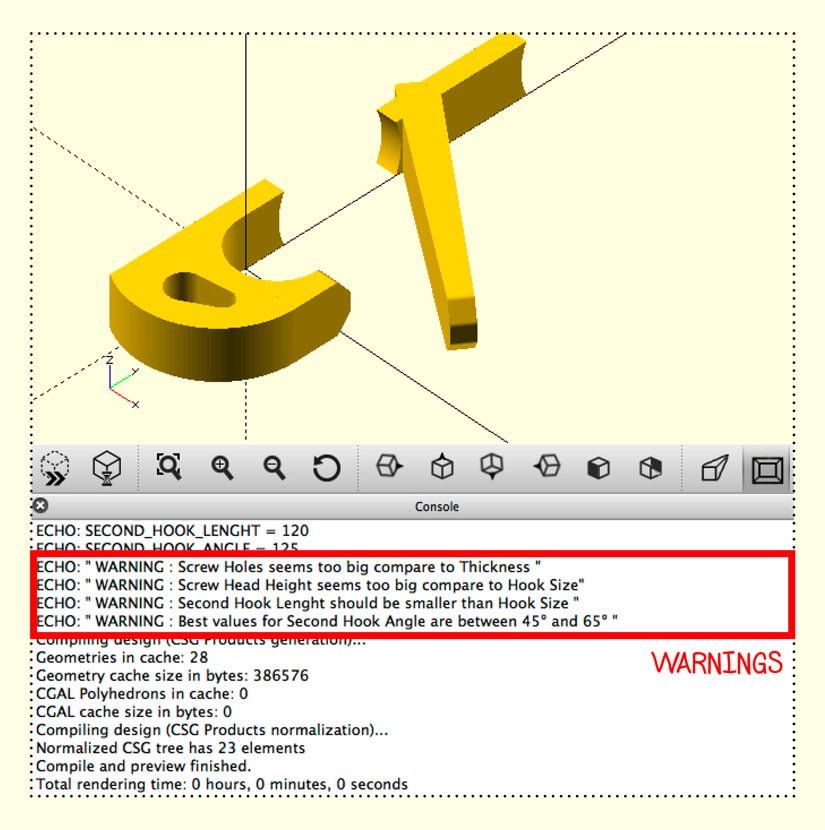 3 / EXTRA SETTINGS
If you chose hook with rectangular bracket, it may be useful to have a security screw to lock the hook. If you need it :
Type "safety_screw=true" in extra settings.
This screw will use same settings as defined in the "screw-holes" part of settings.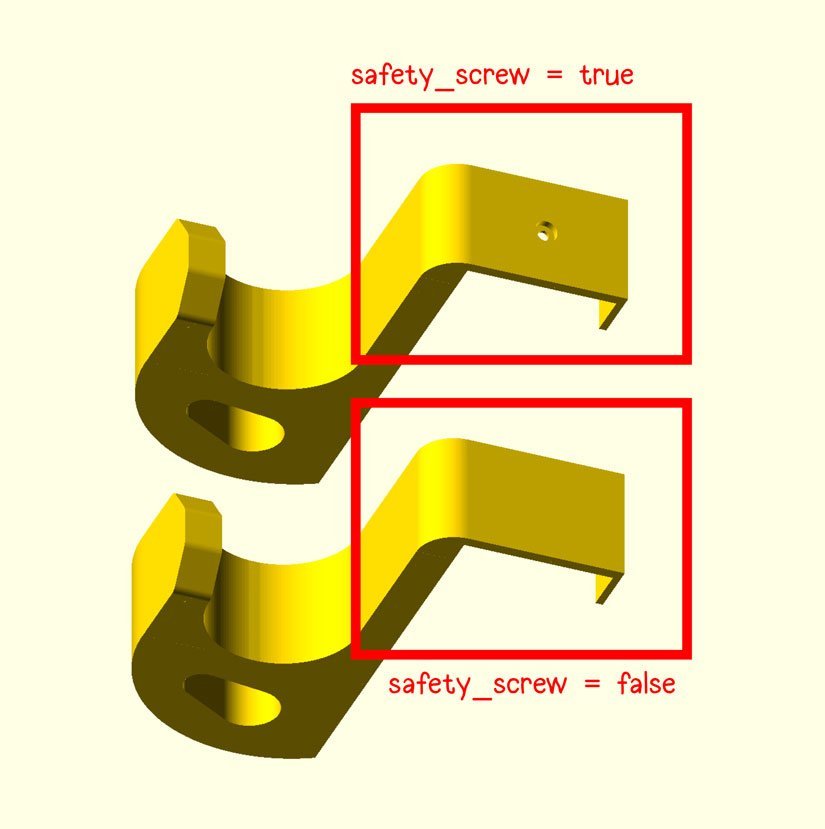 If you enter a big value for "thickness" setting, the file will generate 4 screw holes instead of 2 (which allows you to make a very large hook). In this case, you might want to remove the triangular extremity. Type "extremity = false" in the extra settings.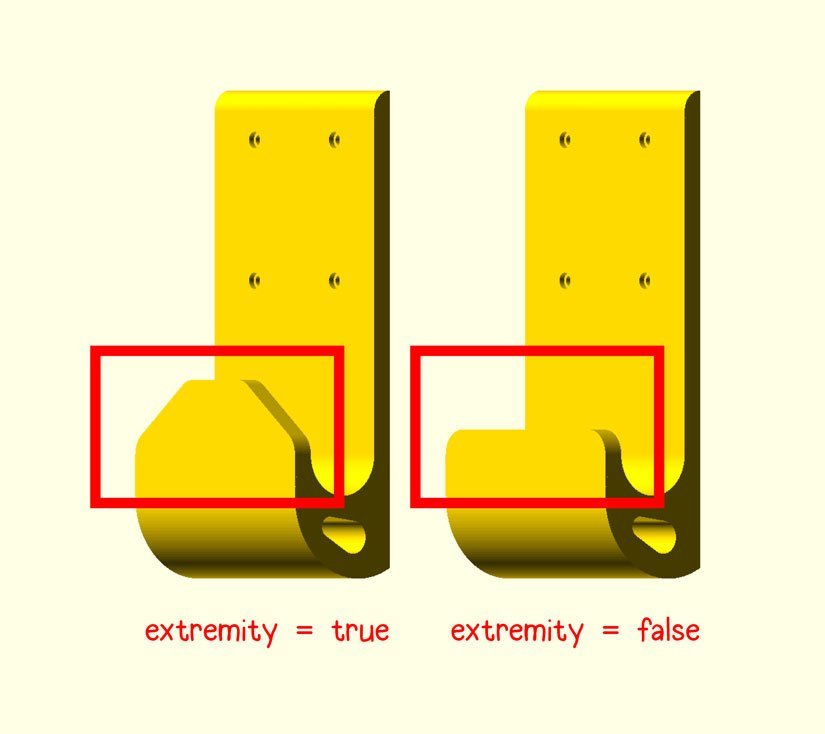 But maybe you want to mash-up this hook with another 3D model. In this case, for better integration, you might want a classic hook without screw holes. And maybe a square top. Type "screw_holes=false" AND/OR "rounded_top=false" in extra settings.
4 / EXPORT AND 3D PRINTING
Once finished customizing your hook, you must run the final rendering in OpenSCAD (F6 Key) and then export to STL (if needed, refer to the end of How to use a parametric file tutorial).
Send the STL file to your 3D printer and start printing …
Nothing specials about print settings, there is no need for support material. The hook's shape makes it really resistant when printed and implemented. No need to use a very important infill, between 20% and 30% will be enough in most cases.
If you do not have a 3D printer, you can print your file in a FabLab, or pay "someone" to print it on 3DHubs, or via a service provider such as Sculpteo or Shapeways.
---
Last posts